🌞 Our new Summer 2023 Collection is here! 🌞
Hearts Animated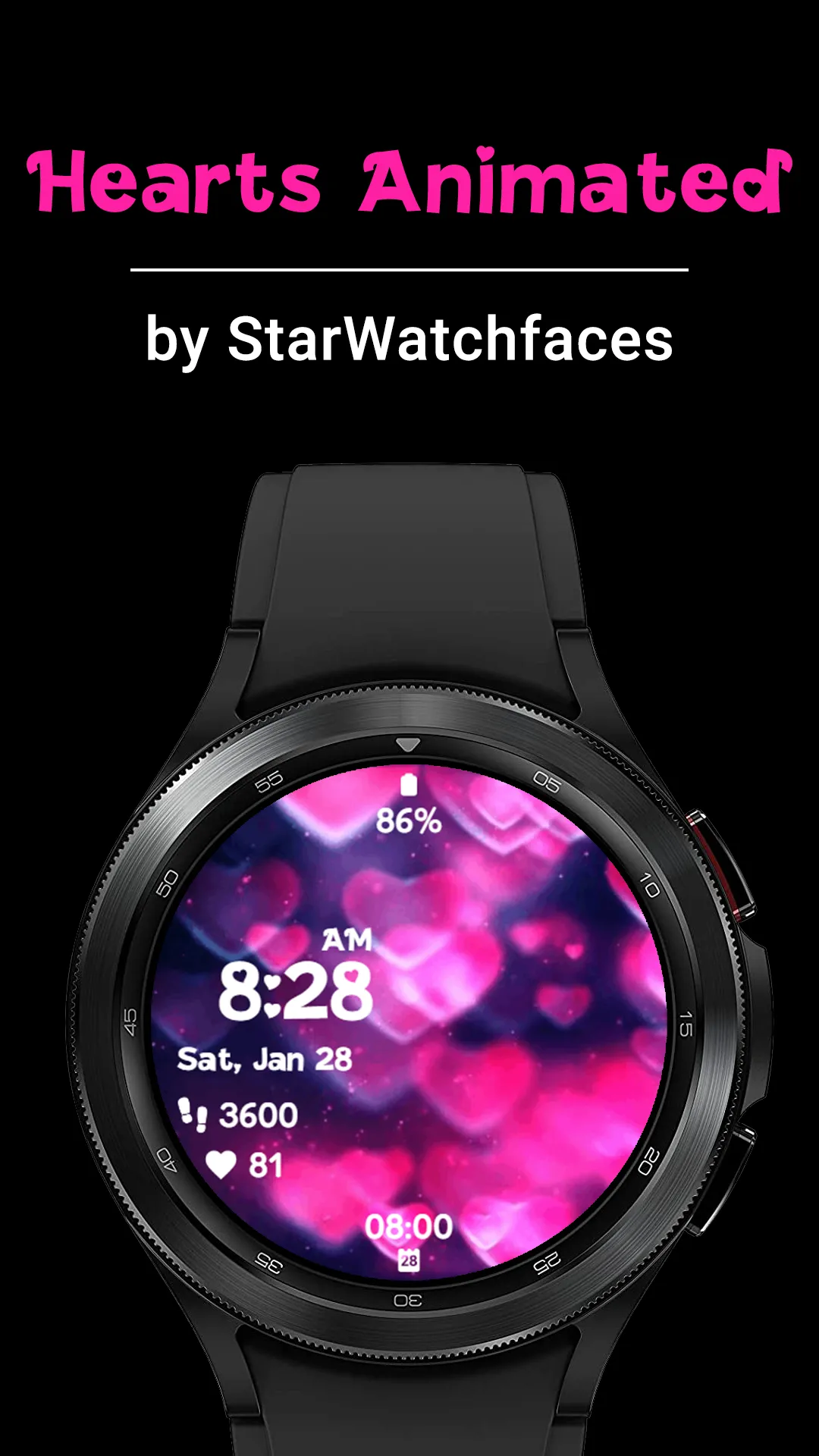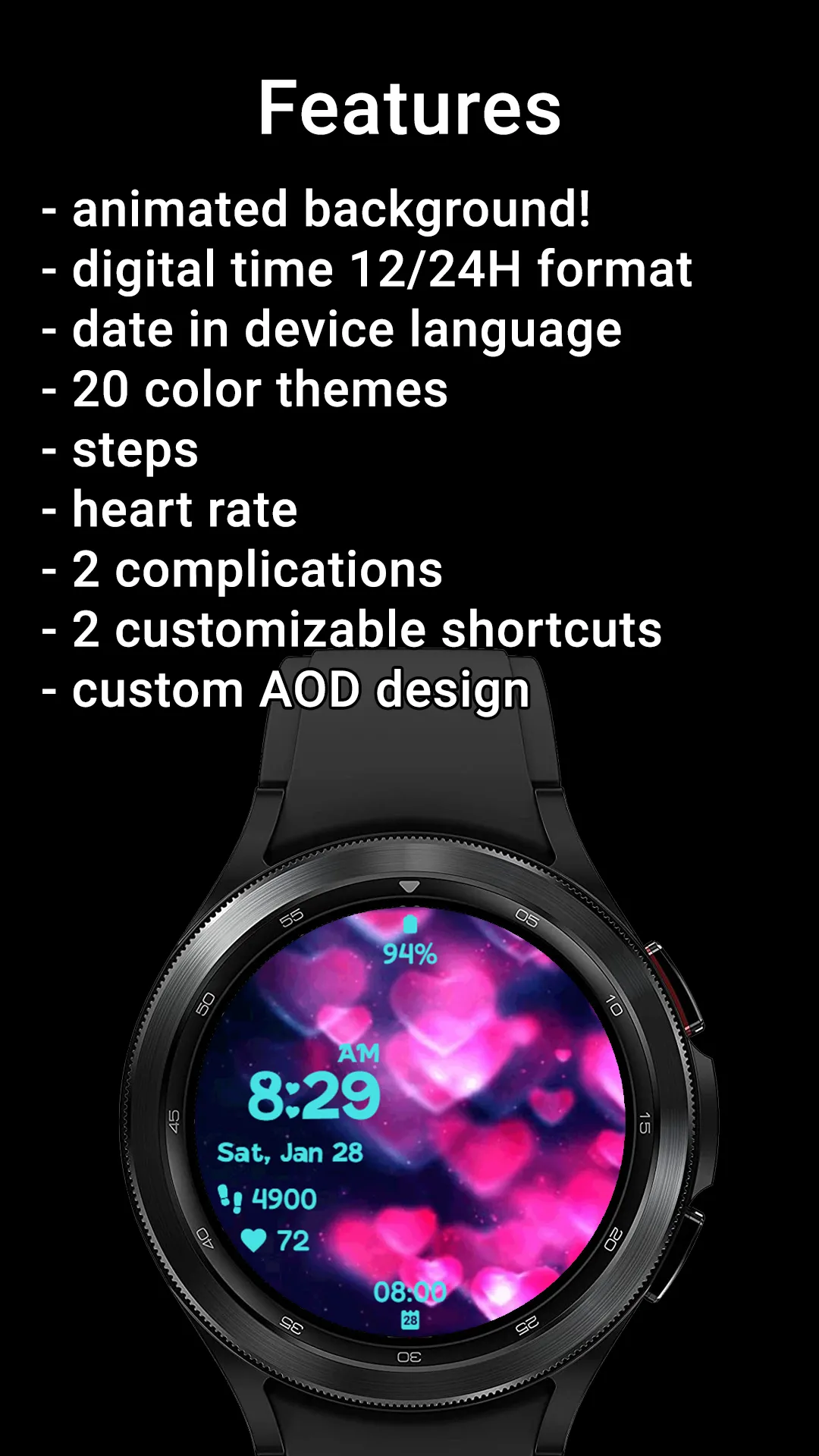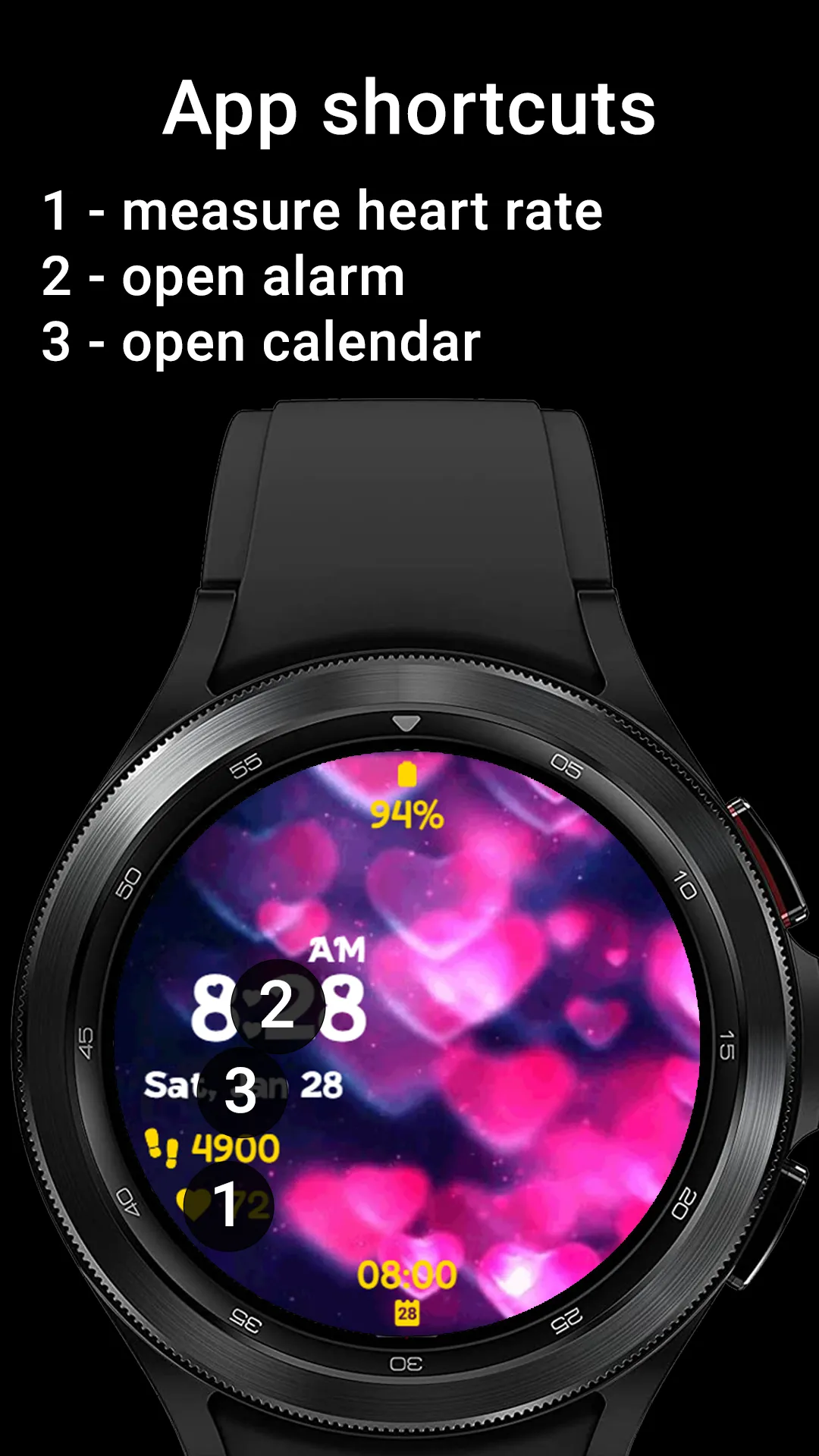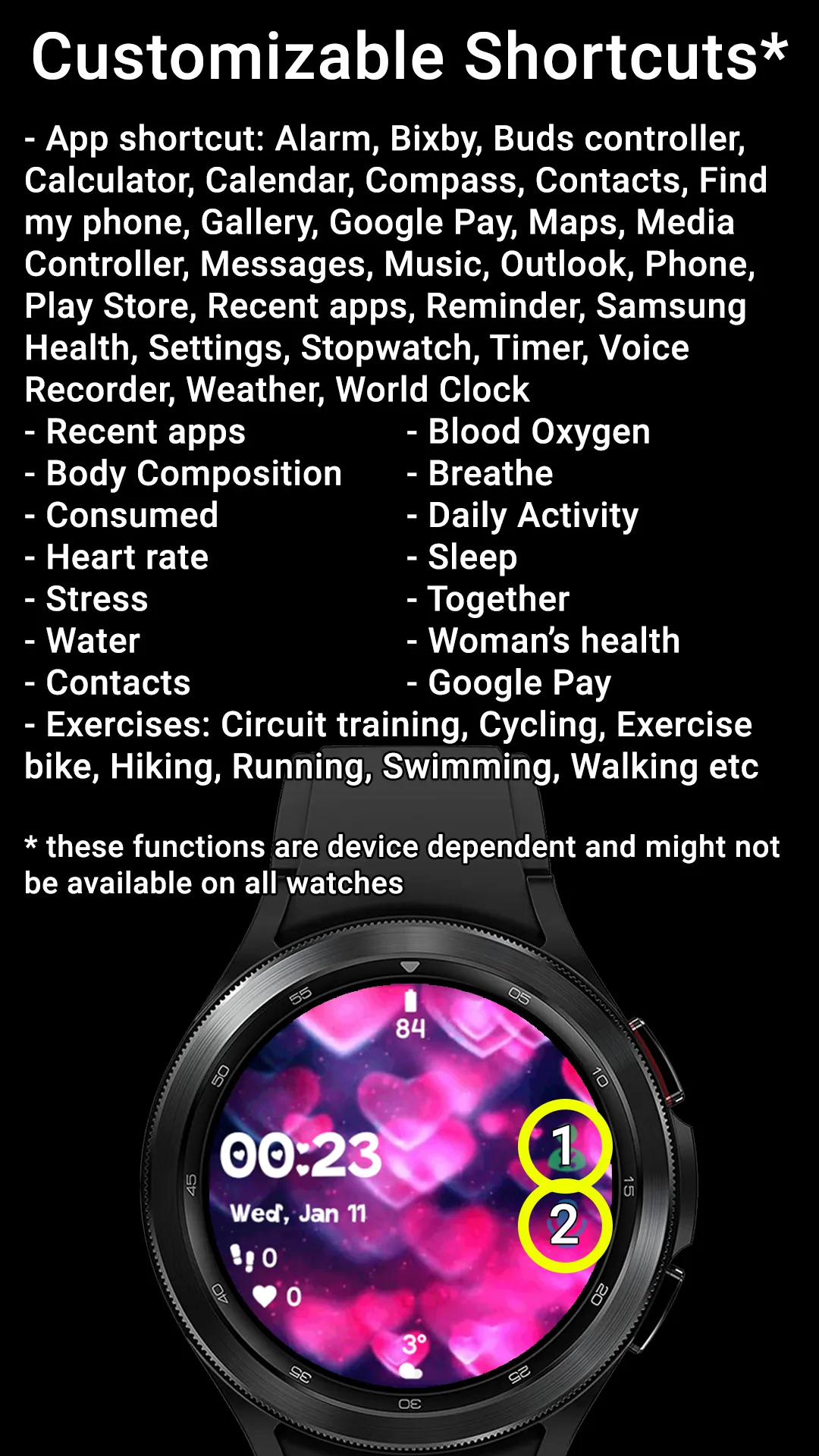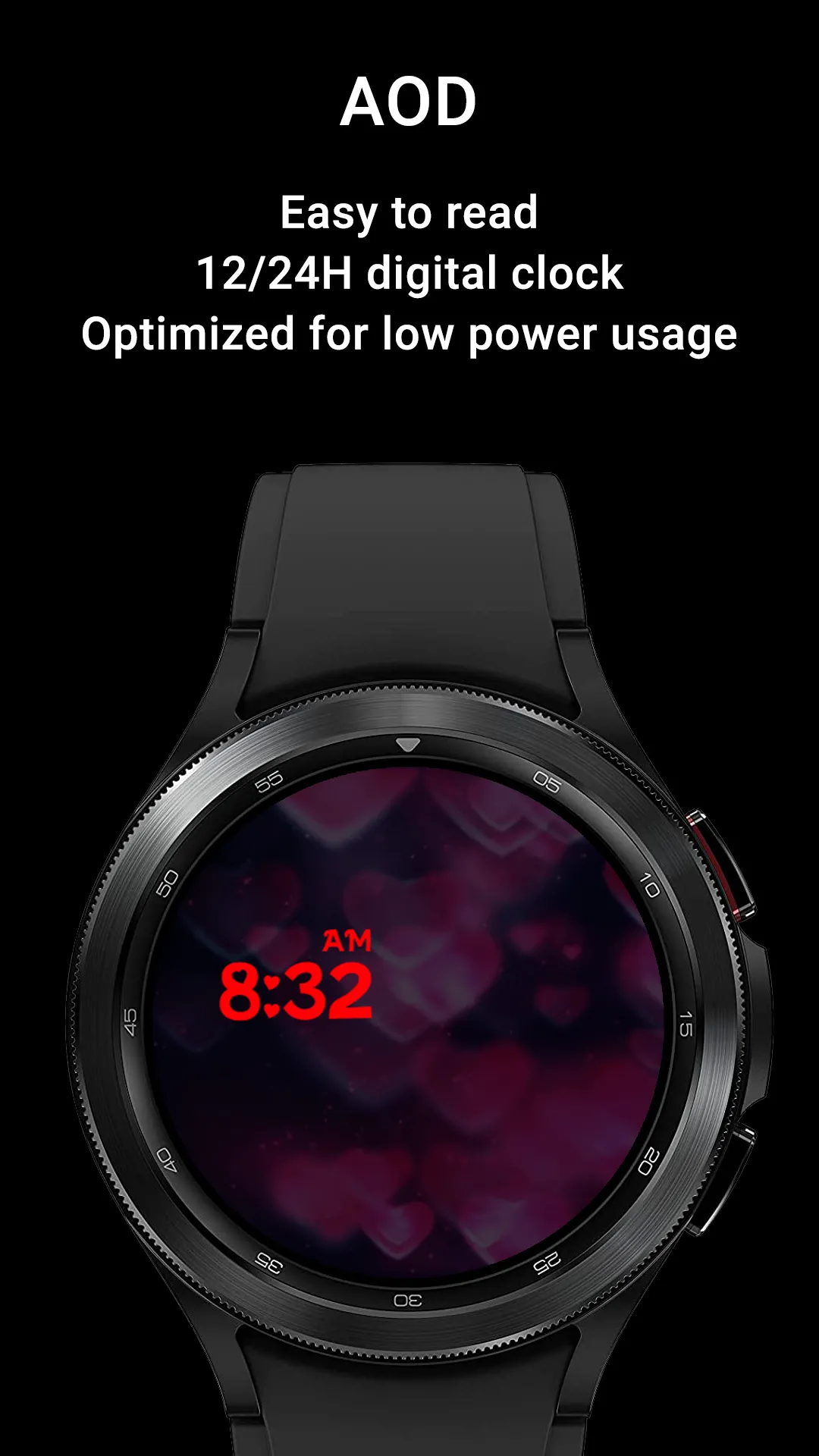 HOT!
Price:
0.99 $
Works on:
WearOS powered smartwatches like Galaxy Watch 5, Galaxy Watch 5 PRO, Pixel Watch, Galaxy Watch 4
Collection:
Summer Collection 2023 for WearOS
Download now

Fall in love with our new adorable Valentine's Day watchface, Hearts Animated! Featuring playful animated hearts in the background and a cute, whimsical font for the time and date, this watchface is sure to bring a smile to your face. Perfect for spreading the love all year round.

Hearts Animated boasts an array of features to help you stay organized and on track, including a 12/24H digital time display, date in your watch language, step and heart rate tracking, a custom Always On Display optimized for low battery usage, as well as two customizable complications and shortcuts.

Customize it to your liking with 20 different color themes to choose from. And if you ever need to conserve battery, you can easily stop the background animation, from the Customize menu of the watch.

Hearts Animated is not just for Valentine's Day but perfect for all year round, making it the perfect accessory for your smartwatch. Don't miss out on this must-have watchface, designed to make your life easier and add a touch of cuteness to your day.

To customize the watchface:
1. Press and hold on the display
2. Tap the Customize button to select animation state (on or off), colors for time, date and stats, data for complications to display and the apps to launch with the custom shortcuts.

Customize the watchface as you wish: choose the best looking color for time, date and stats, select the data you want for the 2 complications, select your desired apps to launch using the 2 customizable shortcuts and enjoy using the watchface! Check the screenshots from the store listing to better understand where the shortcuts are placed.

Don't forget: use the companion app on your phone to discover other amazing watchfaces made by us!

With the release of One UI Watch version 4.5, there are new steps for installing Galaxy Watch4 and Galaxy Watch5 watch faces that are different from previous One UI versions.

If you have issues installing the watchface, Samsung provided a detailed tutorial here: https://developer.samsung.com/sdp/blog/en-us/2022/11/15/install-watch-faces-for-galaxy-watch5-and-one-ui-watch-45

Heart rate on watch face is automatically measured every 10 minutes in order to save you battery. Please make sure that the watch is worn correctly all the time on the wrist. When the heart rate is measured, a little animation with a beating heart will be shown over the heart icon on the watch face. You can also tap the heart rate text to measure the heart rate on request.

The complications can display*:
- Weather
- Feels like temp
- Barometer
- Bixby
- Calendar
- Call History
- Reminder
- Steps
- Date and weather
- Sunrise/sunset
- Alarm
- Stopwatch
- World Clock
- Battery
- Unread notifications

To display the data you want, tap and hold on the display, then press the Customize button and choose the data you want for the 2 complications.

* these functions are device dependent and might not be available on all watches

For the customizable shortcut you have these options*:
- App shortcut: Alarm, Bixby, Buds controller, Calculator, Calendar, Compass, Contacts, Find my phone, Gallery, Google Pay, Maps, Media Controller, Messages, Music, Outlook, Phone, Play Store, Recent apps, Reminder, Samsung Health, Settings, Stopwatch, Timer, Voice Recorder, Weather, World Clock
- Recent apps
- Blood Oxygen
- Body Composition
- Breathe
- Consumed
- Daily Activity
- Heart rate
- Sleep
- Stress
- Together
- Water
- Woman's health
- Contacts
- Google Pay
- Exercises: Circuit training, Cycling, Exercise bike, Hiking, Running, Swimming, Walking etc

To display the shortcut you want, tap and hold on the display, then press the Customize button and choose the shortcut you want for the 3 customizable shortcut slots.
* these functions are device dependent and might not be available on all watches
Enjoy!
Features:
animated background
digital clock
date in device language
steps
heart rate
2 complications
AOD mode
20 color themes
2 customizable shortcuts