🎅 Our new Winter Collection is here! 🎅
Rainbow Swirl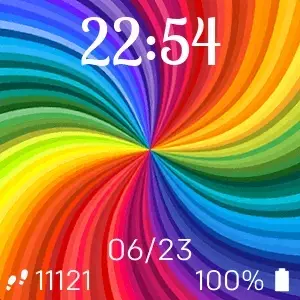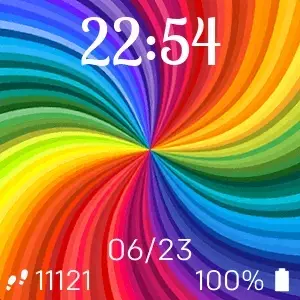 A special watchface for Pride Month with animated background!
💖 animated background
💖 12/24H digital clock and date
💖 multiple date formats
💖 statsbar with battery, steps, bpm, active zone minutes, distance and floors (except Versa Lite)
💖 RGB color selector for clock, date, stats and background shadow
💖 transparency level for background shadow
💖 24 fonts for date and stats
💖 tap left or right stats to change shown stats
💖 date & settings in multiple languages
Customize the clockface the way you want it from the clockface settings page inside Fitbit app! Over 1 million possible combinations!
To use the clockface, a one time payment of 1.19$ is required, after a 1 hour free trial period.
To purchase, enter the 6 digits code shown on the clockface on
https://kzl.io/code
. Already purchased? Unlock the watchface following the instruction from
https://kzl.io/unlock
.
👍 Like us on Facebook for updates & promotions
https://fb.com/starwatchfaces
Enjoy!
Features:
animated background
12/24H Time format
RGB color selector for clock, date, stats and stats background
24 fonts for clock, date and stats
Multiple date formats
Settings page inside Fitbit app
Battery status
Heart rate
Number of steps
Burned calories
Floors
Active Zone Minutes