🎅 Our new Winter Collection is here! 🎅
Halloween Bats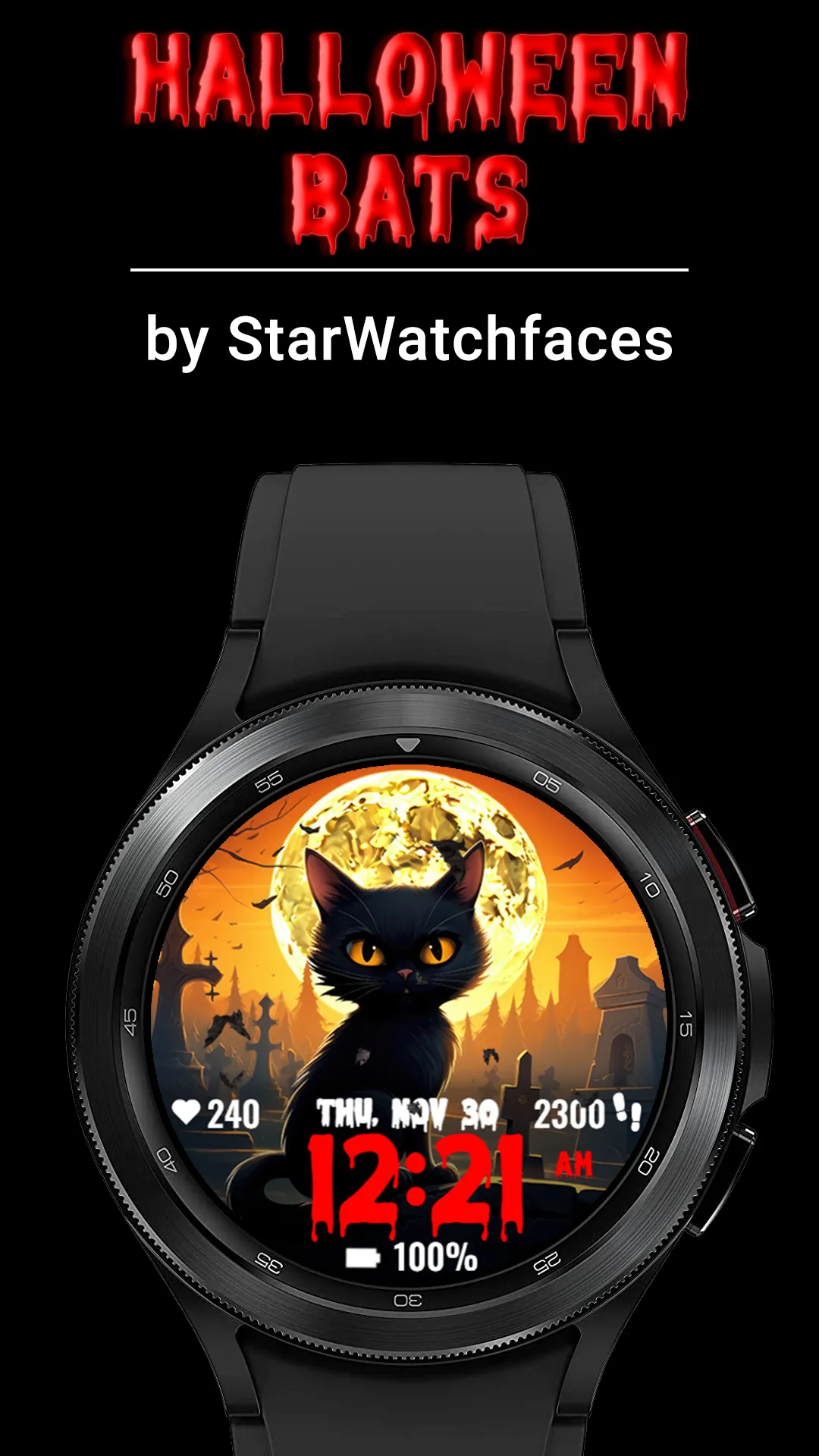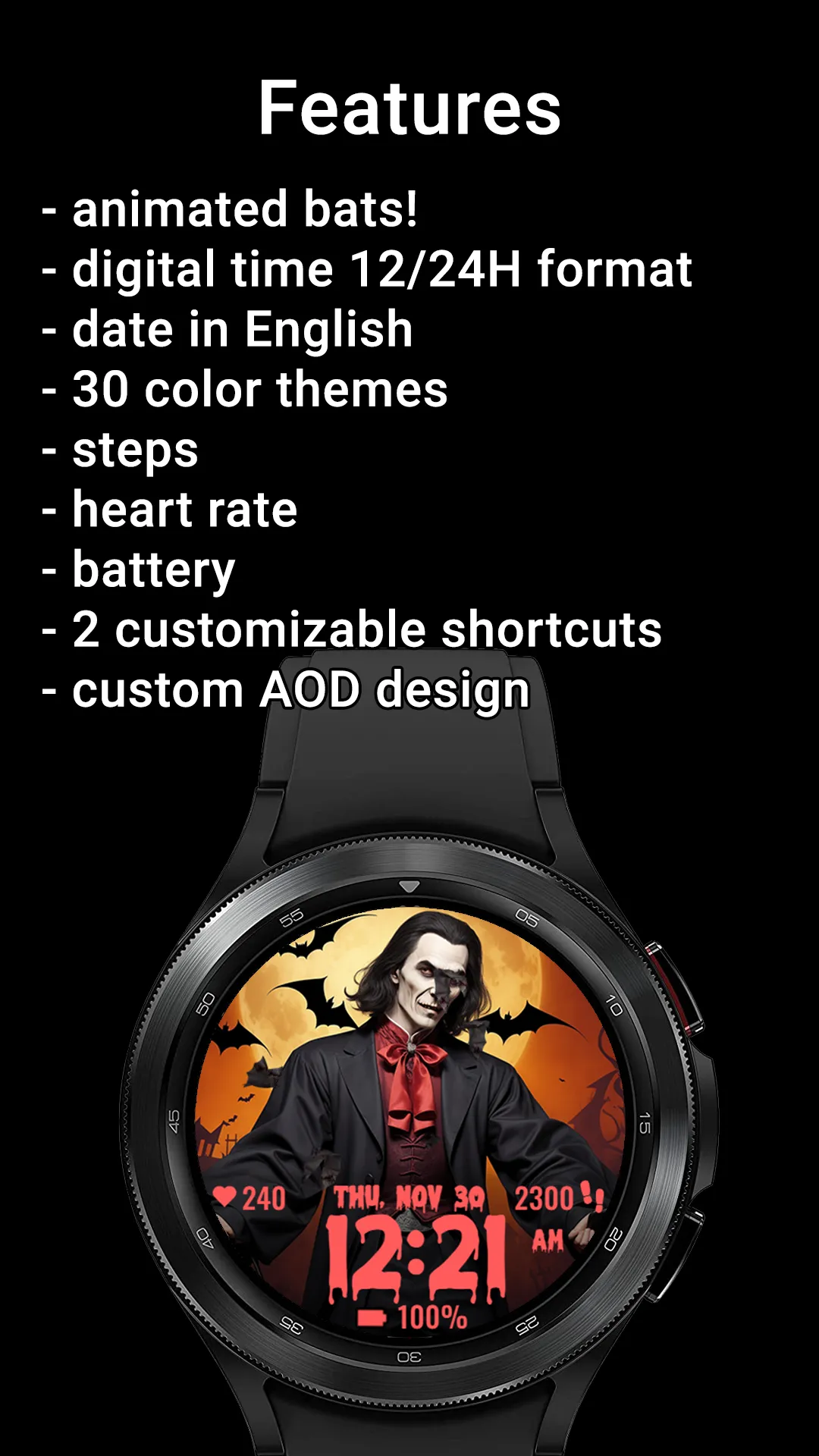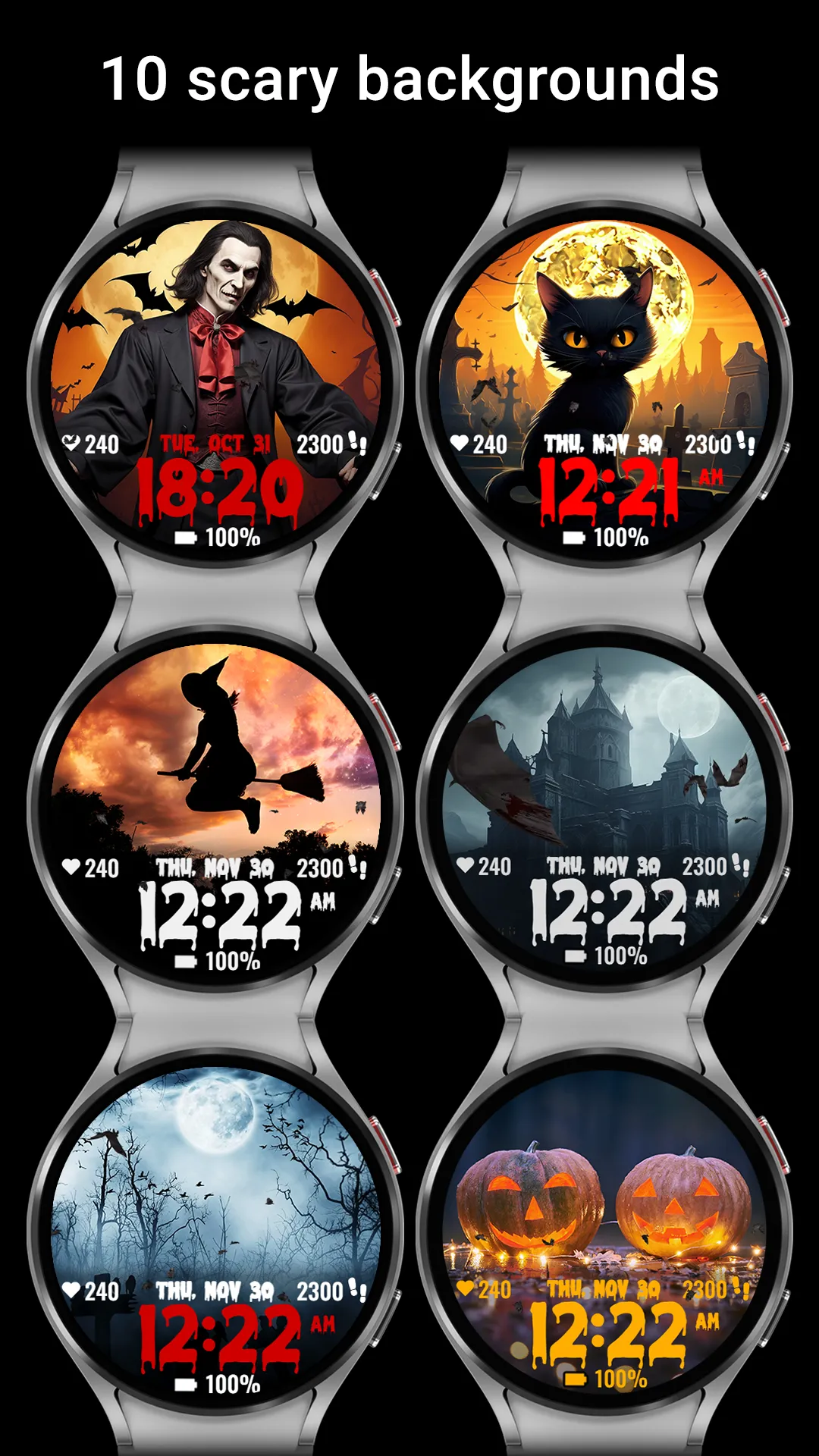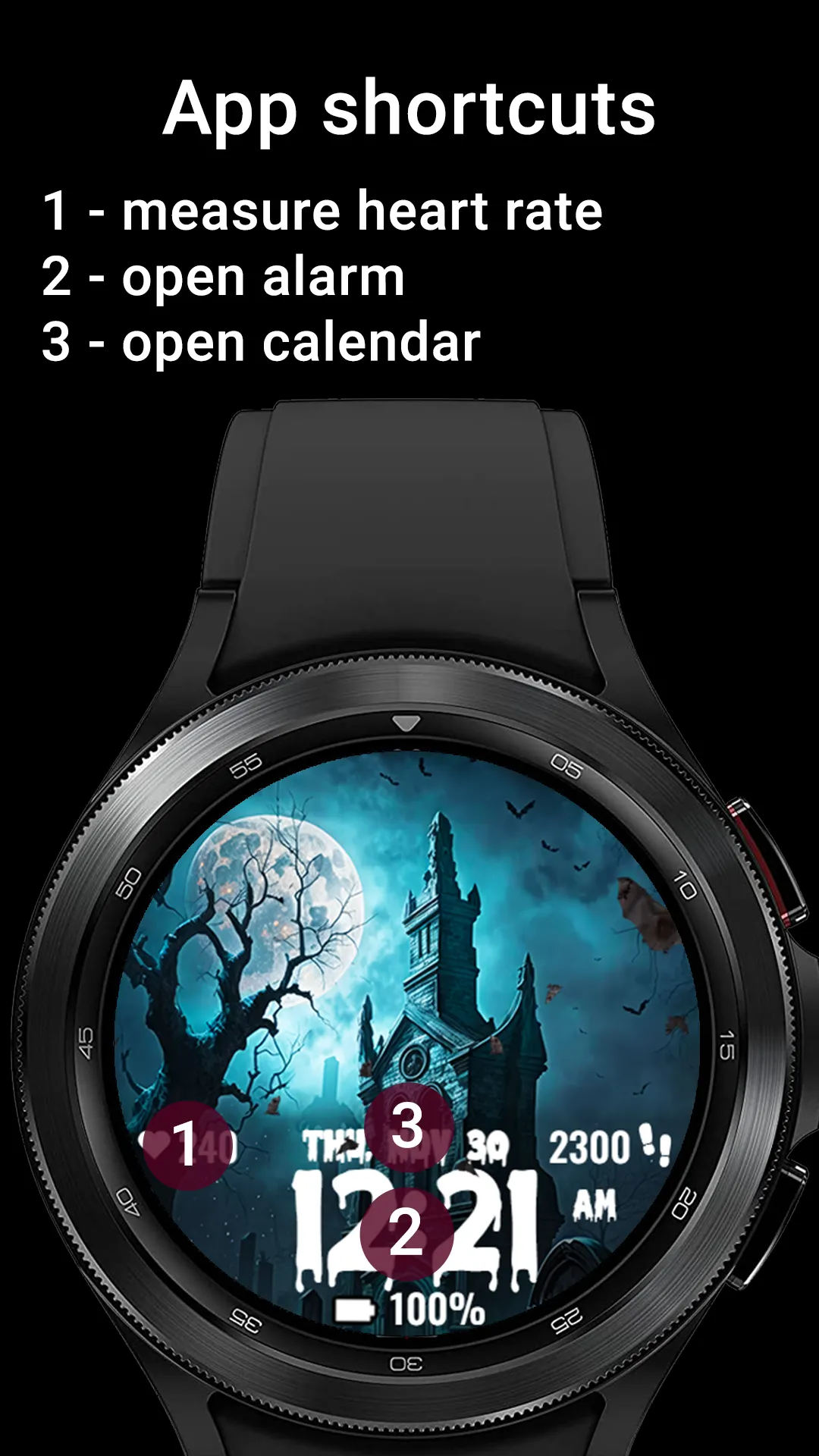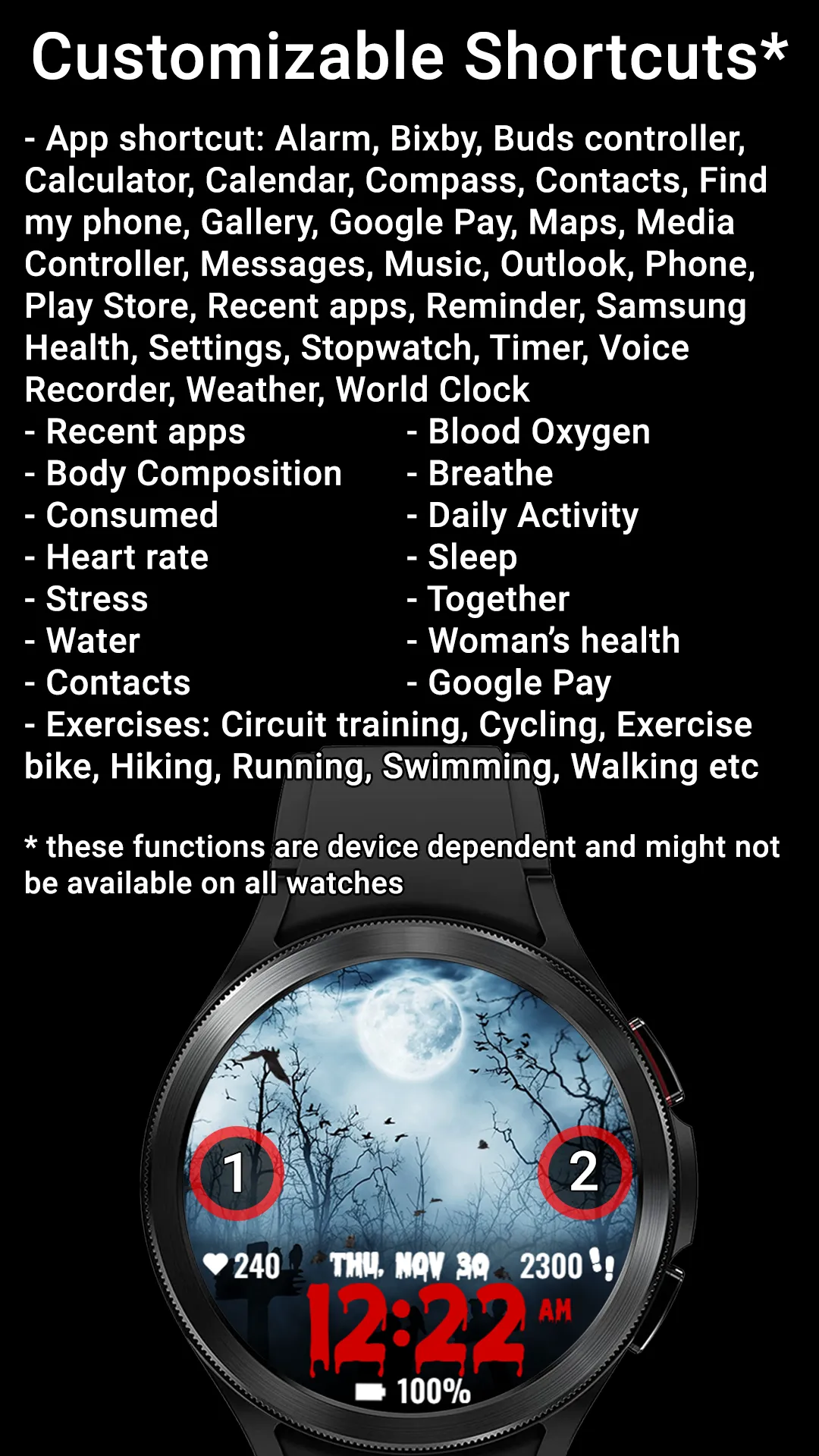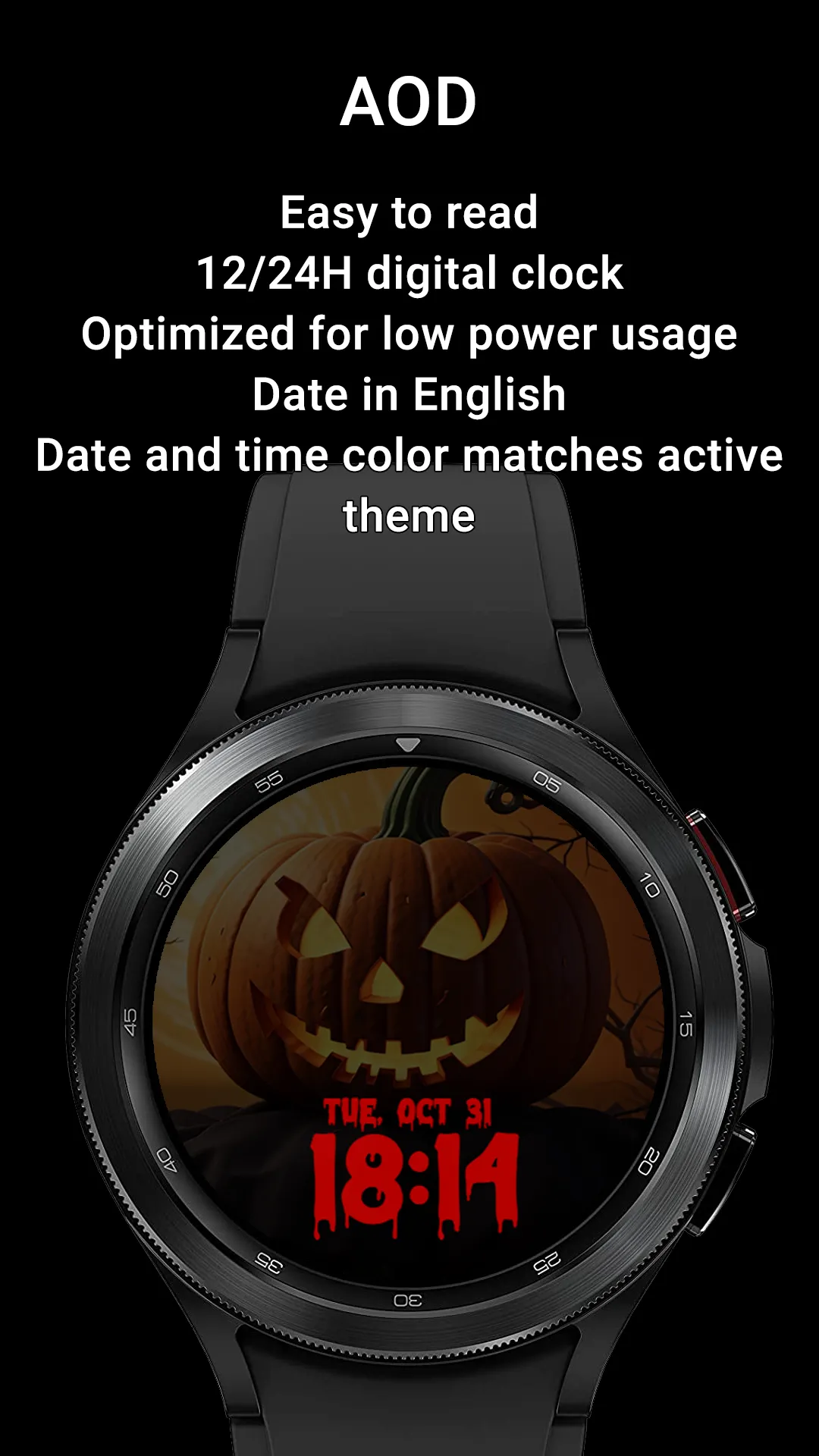 NEW
Price:
0.99 $
Works on:
WearOS powered smartwatches like Galaxy Watch 6 & 6 PRO, Pixel Watch 2, Galaxy Watch 5 & 5 PRO, Pixel Watch, Galaxy Watch 4
Collection:
Autumn Collection 2023 for WearOS
Download now

Embrace the ominous allure of the spooky season with our meticulously crafted "Halloween Bats" digital watchface for Wear OS. Designed to imbue an element of eerie elegance to your smartwatch, this masterpiece seamlessly integrates high functionality with whimsical horror aesthetics, ensuring that you are in style without compromising on utility.

👻 Visual Delight 👻
Watch in awe as animated bats gracefully flit across the display, weaving between the iconic symbols of Halloween. Choose from 10 intricately designed backgrounds featuring a ghastly ensemble of pumpkins, cursed cats, ethereal ghosts, and enigmatic vampires, each rendered in exquisite detail to bring the haunting atmosphere of Halloween to your wrist. Don't forget that you can turn on or off the animated bats from the watchface personalization menu!

🧛 Ultimate Functionality 🧛
The Halloween Bats watchface isn't just about its spellbinding visual appeal - it's a powerhouse of features. View the time in either 12 or 24-hour format, displayed in a scary font that complements the watchface's theme. Keep track of the date, displayed in clear English, ensuring that every day of the haunting season is accounted for.

🎃 Health & Fitness Integration 🎃
Your steps and heart rate are displayed on screen, allowing you to keep an eye on your health amidst the frightful fun. The integrated battery info ensures that you're always aware of your watch's energy levels, even when you're lost in the macabre mirth of the season.

🦇 Customizable Convenience 🦇
With two customizable shortcuts, access your most frequented apps with a mere touch, ensuring that your favorite digital tools are always within easy reach. Personalize your experience, making it as haunting or as heavenly as you desire.

🧟 Always-on Display (AOD) 🧟
Our AOD screen is a masterpiece of visual and technical artistry. Optimized for low battery usage, it ensures that the eerie elegance of "Halloween Bats" is always visible, casting its ghostly glow while ensuring that your smartwatch's energy is preserved for prolonged usage.

With the Halloween Bats watchface, every glance at your watch is a step into a world where eerie elegance and top-tier technology converge, making every second of the Halloween season a spellbinding experience. Dare to take the step – where technology and terror intertwine, and where every tick echoes with the haunting whispers of All Hallows' Eve.

To customize the watchface:
1. Press and hold on the display
2. Tap the Customize button to change the background, color theme for time, date and stats, the apps to launch with the custom shortcuts and to turn on or off the animated bats!

Don't forget: use the companion app on your phone to discover other amazing watchfaces made by us!

Heart rate on watch face is automatically measured every 10 minutes in order to save you battery. Please make sure that the watch is worn correctly all the time on the wrist. When the heart rate is measured, a little animation with a beating heart will be shown over the heart icon on the watch face. You can also tap the heart rate text to measure the heart rate on request.

Enjoy!
Features:
animated!
10 backgrounds
digital clock
date in English
steps
heart rate
battery
AOD mode
30 color themes
2 customizable shortcuts